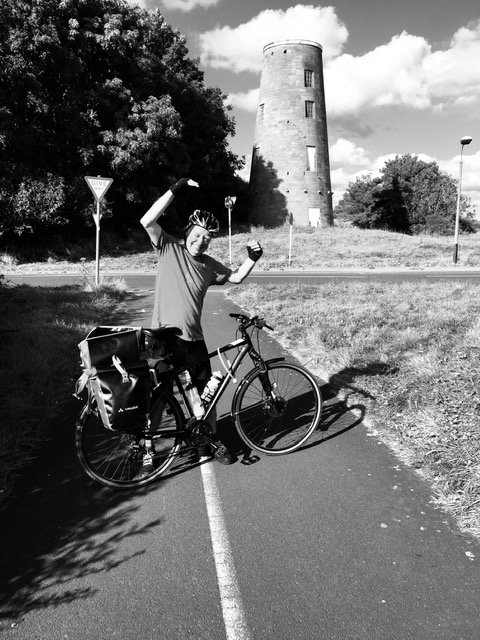 I've probably done a canny few miles cycling over the last decade, back & forth to my Mam's in Bill Quay … but the longest riding distances I've ever done really was only to say South Shields or Rowland's Gill. However a long awaited celebration cycle tour this week to Glasgow, ( that was probably my idea ) with fellow six'tonian's Keith & Paul, had me more than a little worried … and Sunday 26th Sept was the day it all started. Forty seven miles up to Warkworth … Phew & double phew , well at least the sun was out & shining.
Filling up the panniers, with as few clothes as possible and 5 bananas, two apples, a full pack of crunchy bars & some soreen fruit loaf bars for luck, and we were off. A stop for a photo at Tynemouth priory after a short few miles, then upwards & onwards it was. We adventured through Seaton Sluice, to a place close to my heart- Blyth. Yes many happy memories of entertaining with Hot Licks Cookies in The Flying Horse & those lovely locals. Then a ride through old Bedlington & the Station with the same name, then a worthy stop for coffee & a breather in Cambois. Now with the sun shinning gloriously I was in full voice, serenading everybody & anybody. My fellow cyclists might have heard "Gung Ho' an old song from Erin McKeown, then "Going to Kansas City "as I came into Bedlington & "Take the A train" as we hit Bedlington station. Where do I get them from?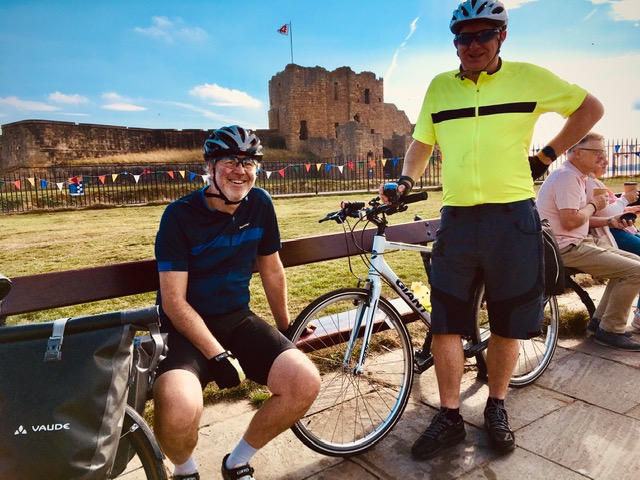 A couple in the café, on those new popular electric bikes, chatted to us as north easterners do & they were musician's and crikey, the lady came from the same place as us … look out for The Beacon Band folks. Later near the Duridge Bay Lake we were stopped by another cyclist Martin Forster who gave us his life story… a thinker is what id probably call him! On our way there we passed the remains of a Windmill at Woodhorn & a bridal path near Hauxley. Then as I sang "The Sea the sea the sea" a new Sierra Ferrell ditty, we saw the sea and then through Amble we did amble and WHAT a beautiful ride along the coast to Warkworth. WHAT a day, what a start & although I didn't know, it yet, the only day of good weather on the whole bloody cycle trip! We celebrated in The Sun Hotel & the effervescent John Hardy came down to help us , on our first evening of the tour.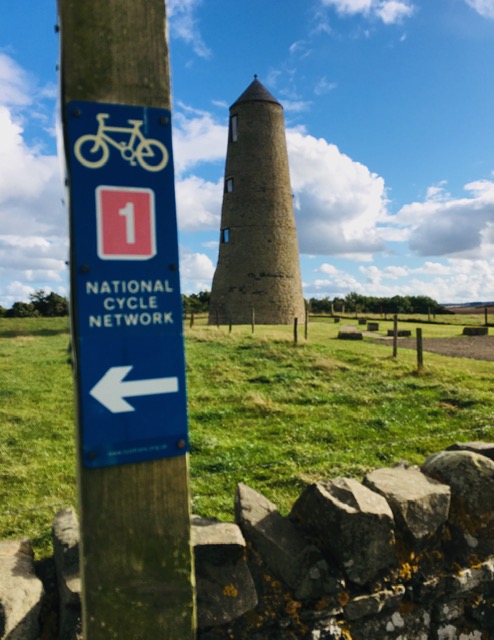 If yesterday was like the Algarve, Monday 27th was as cold as Alaska with a bit of a monsoon for the aperitif & gusty winds for the desert. It was our longest cycle ride too, up to Berwick Upon Tweed. God it was tough. But it didn't stop me singing, well of course it didn't, as I was a happy cyclist. As I was chanting "Rain rain on my window, rain come tumbling down" you know, that Jason Eady tune, Keith got a right soaking from a passing lorry. It was hilarious. Up a hillside road he fell off his bike too, but luckily not too badly. As we stopped for lunch in The Dunstanburgh Hotel they had no meals & just past Beal, Paul got a puncture & thought he'd lost his phone. Oh dear…. The hills are tough but we all got up them & I was discreetly humming "Wet & Windy" the Doc Watson tune for most of the day, cause that's just what it was. Nevertheless we had a fantastic time except for the part towards Holy Island. As the dusk fret came in, we just couldn't make out a tractor track on the route 1 & after that it got even worse. Just before Spittal on a really bad bit of terrain I joined Keith in the "falling off my bike " brigade, but happily no injuries to man nor bike either & on we rode, descending from the hills upon the outskirts of Berwick & making the Hotel just before 8pm… & perhaps over 9 hours of cycling. BUT there was some good news … amazingly, right there in the basement of the Hotel, a 15m swimming pool & sauna … YES yes yes, well that was indeed, major league good news!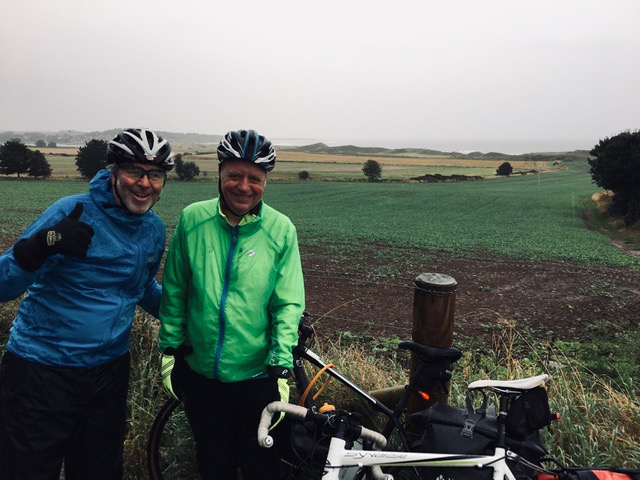 The early Tuesday morning ride over the bridge into Berwick along the Tweed was lovely & as the main A1 was the only road out of town, we caught a 10 mins train ride instead to Dunbar. I'm glad we did as we encountered the Geordie from Alan Partridge first Motel series, helping us on the train with our bikes. I'm pretty sure it was really him & after his long parables about growing up in Elswick & the bad language in the Leazers end it was our stop. Although the journey was short, he proclaimed we'd made his day … whoop. However riding into the Scottish town of Dunbar was like crossing the great divide…and back 3 months to a regular lockdown. Queues outside shops, one in one out, test & trace and general mask doubts. We encountered real cyclist animosity in a high street café and were quickly out of the place & onto a lovely coastline. Initially the cycle was a rollercoaster up by Hailes Castle and beautiful hills & countryside it was too. When we got back en route 1 via the coast at Seton Sands the sign said "Welcome to Scotland's Golf Course Coast ". We were now on the main road & yet another sporty car came far too close for comfort for Keith & I. So sliding my bike up onto the pavement, I unfortunately got a puncture. … And yes it was raining again too. However with Paul the puncture king on hand, in no time. we were off on a long "off road" cycle path to Longriddry (not unlike the Derwent walk) . If your of an age you'll get this, as the tune we were humming all day was "I Want You To Show Me The Way" as Frampton came alive in Scotland. It helped us through Musselburgh safely, passing a junior school run, the high school, the University, then the hospital … but no cemetery. The cycle on the John Muir way into Edinburgh had some stunning views, no more so than Arthurs mount & the Portobello pier. We made Edinburgh in plenty of time, for our pre booked dinner at Viva Mexico near the royal mile & I actually felt rather chuffed.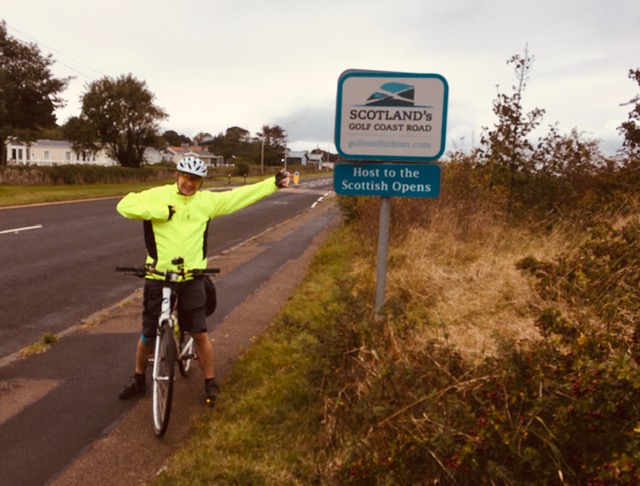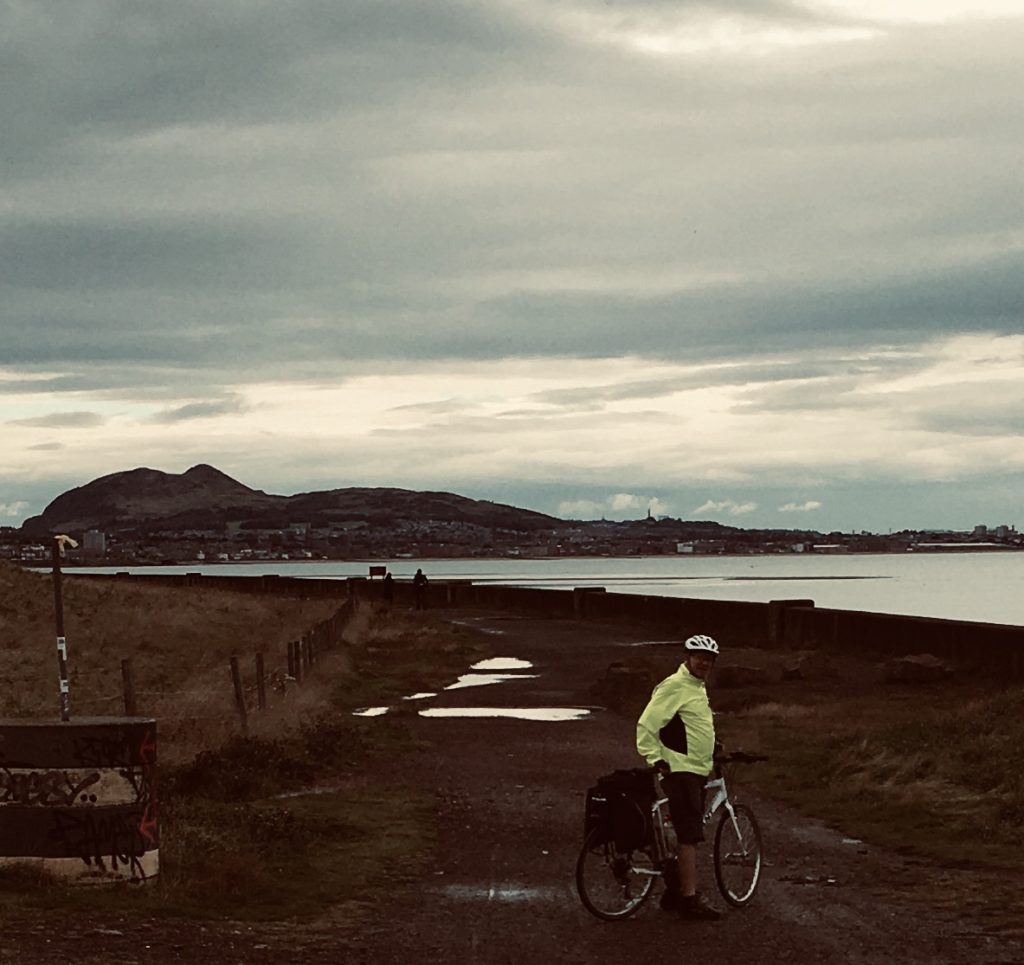 Wednesday was our day off to mooch around Edinburgh and the only other day not to rain. Keith had washing to do, Paul had a bicycle shop to visit (I know) but I had also organised us a bit of culture. Although the capital city has been a regular visit over the years for me, that big National Gallery building near Princess Street hasn't been. So off we went with the booking reservations to see some Scottish artists & the French/post impressionist gallery upstairs. Then it was over to the Film house on Lothian road with our covid masks a ready. 'The Alpinist" was our afternoon film with only two other viewers in the pictures. A leisurely walk to an Italians via West Meadows green (which was new to me) was our final destination & we were ready for tomorrow & now sussed out on how to find the canal by bike, for tomorrow's journey.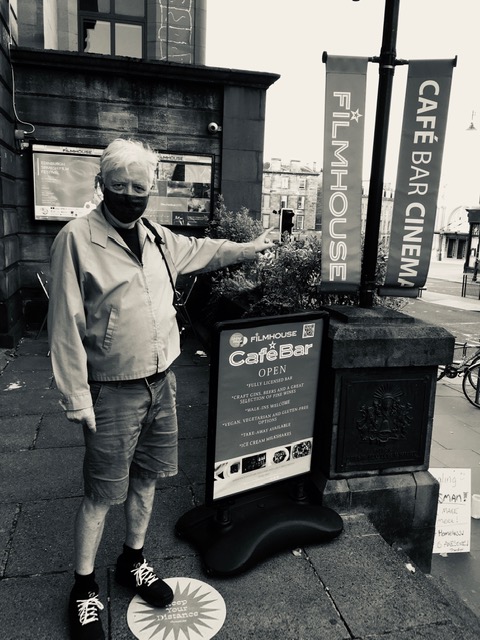 The Thursday weather forecast on TV last night said heavy rain in the morning. So we left it late to set off on the 37-mile canal route to Bonny side near Falkirk. Paul got a puncture again at the very start of the Union canal and I got stung on the leg by a bloody wasp. The weather people got it all wrong as usual, as it rained all day, however it was such a lovely ride. No ups or downs occurred except while walking with our bikes over the fantastic aqueducts. The canal water was like looking at a Monet painting as witnessed yesterday & it was pretty much a  'people friendly free' ride all the way … lucky us. Musically, I was heard humming "Life's Little Ups & Downs" the Charlie Rich classic, "Bewildered" a Lonnie Johnson tune & "Slow Loving." the Martin classic, as I was in such a splendidly mellow mood. So it was a great idea to us, for Paul to also suggest that we must see the Kelpies on our way bye, but getting there from the canal was quite another thing. Paul had us nearly on the main A9 motorway. Me & Keith just refused & we eventually got there by cycling through one of Falkirk's hardy council estate's & as luck would have it, past their new football stadium (hurrah). It didn't bother us at all, as we all were brought up on the Ellen Wilkinson council estate (what a lovely name). Anyway, those massive Kelpie horse head sculptures were something else & I wish we'd had more time to look but it was teatime & closing. So it was back onto the Forth & Clyde canal which conveniently ran right alongside them.  We then managed to cycle the 4 miles to the Falkirk Wheel just as that was closing too. Again the boat lift was pretty impressive although we didn't see it in action. Not to worry, as it was only couple miles to our accommodation with an outside hot tub. Sadly only one of us used it.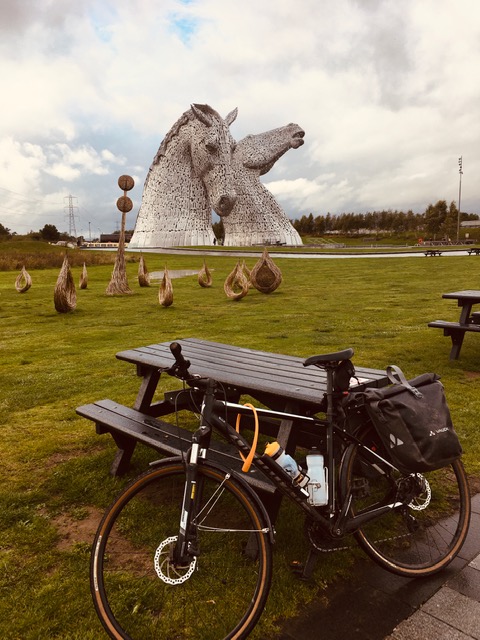 Friday was our last bike ride and it was a proper Geordie send off. We started the day with a breakfast at Greggs. Well, eating our pasties outside in the drizzle. We then joined up with my Glasgow chum Martin (as much a cyclist as Keith & I) for the 25 miles of so of Forth & Clyde canal way into the city. Keith said it was his favourite days ride & I could have bet a lot of money on that. However the heavens opened again & it was still tricky on the cobbled stone passages under all the bridges. Martin was a good host, as he knew the vast walkways in Kelvingrove Park for our grand finale. We got to Glasgow mid afternoon with both a sense of achievement & relief. With our 175 miles bike tour complete, it was bikes in the Hotel, then off to the Bon Accord for light refreshments, then onto a great gig at The Glad Café with Diana Jones as an extra bonus.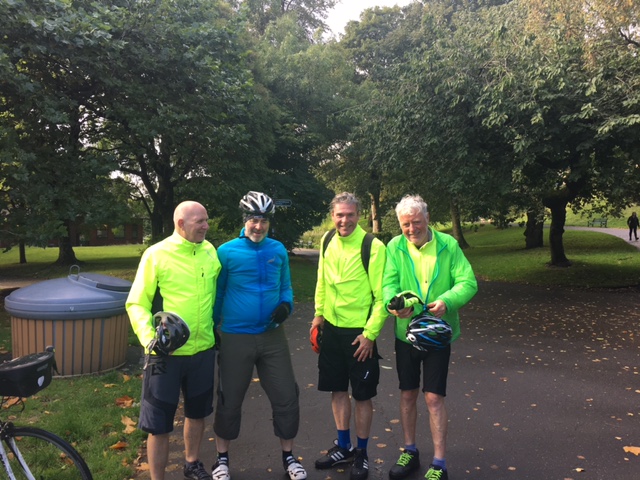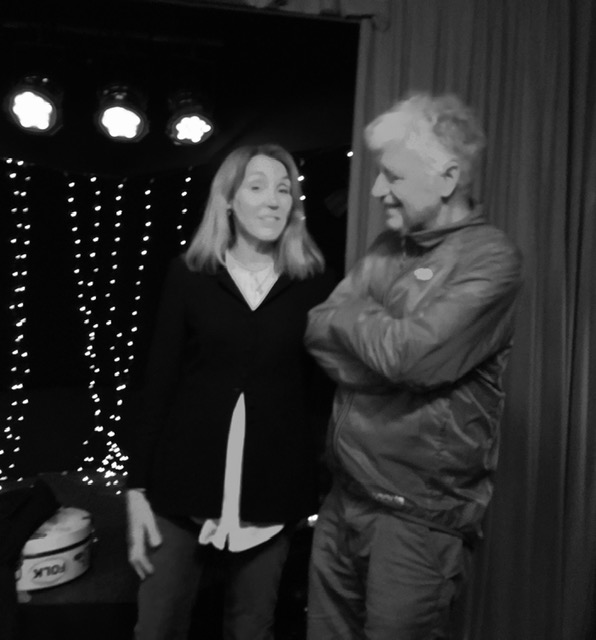 What a week we had…. but strangely we didn't lose any weight !!!