I was looking for the "Perambulating" album master from 2014 to also put on bandcamp & I came across the album launch review by Little Nemo . So here that is ……
Shipcote & Friends with special guest Brendan Croker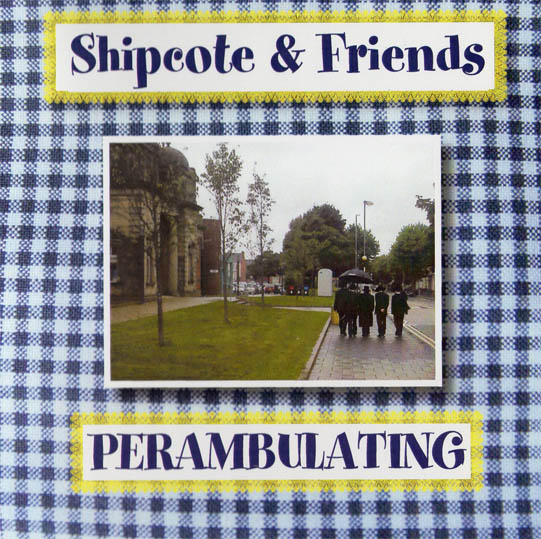 The Studio @ Live Theatre Saturday 26th April 2014
Welcome to the charms of The Studio at the Live Theatre. This is the sweetest venue in Newcastle, without a doubt. Well run, compact, great sound and at last, some decent lighting to help those with cameras/phones wishing to retain the moment for posterity. It was good to see old friends and supporters of the band who have come to understand this unique outfit.
Tonight we would welcome Shipcote & Friends who would be launching their latest LP, well CD but LP sounds much nicer, to the world but is the world ready? That's the question!
Shipcote decided that it would be better to open the gig, it seemed odd at the time but made sense as the evening proceeded and the band took the stage to warm applause. It was delightful to hear the band in such good form as, from the off there seemed to be no holding them back. It would only be fair to name the band members as they played out of their skins so, Bryan Younger – guitar and banjo, Cath Reding – accordion and fiddle, Jon Codd – double bass, Bongo, you guessed, drums and featuring the amiable Scot Malcolm MacMaster on pedal steel. The most intriguing thing about Shipcote is his ability to write from the heart about Gateshead and also his minute observations about daily life. Whilst most of us would take a year to write a poem he has the natural ability to keep coming up with songs that hit the nail on the head. It was a great first set with Shipcote, to be honest, sounding better than ever before, putting some real power into his vocals. Highlights were undoubtedly 'Perambulating in Gateshead', 'Van Morrison', "Teatime" and 'Facebook' but I must say it wasn't just those four songs, it was the experience of being at a live show and hearing the band drive the songs with that extra power and energy which is so often lost in recording. But don't let that detract you from the album, which is a delight, if a different experience, on its own.
Then it was the turn of Brendan Croker who, it must be said, is such a charming character and a good friend to the Jumpin Hot Club. His set could have been recorded in 1964 at Les Cousins such is his knowledge of the blues and old folk songs long forgotten by generations. He could sing the alphabet and have the crowd on its feet. Brenan is a great 'sharer' of his knowledge and doesn't have the ego of many a musician. A wonderful encourager of up and coming talent as was shown by asking Cath Reding to join him on stage to accompany him on fiddle. Cath always has a smile on her face and was up for the challenge, which she completed in style, playing along with Brendan on songs I'm sure she had never heard before.
All in all, with an inspired finale of Shippy & Brendan playing the Laurel & Hardy classic Blue Ridge Mountains, & the awesome "Why Worry" a very successful evening was witnessed. It was relaxed, entertaining, warm and comfortable – what more do you want? The CD was available of course. Don't forget 'Perambulating' is the title by Shipcote & Friends. Hats off to all !!!
Little Nemo